Add This to Your Wish List: A Portable Wood Camping Stove
Add This to Your Wish List: A Portable Wood Camping Stove
One of the coolest elements of back-country camping is a wood fire. A wood stove is one of the most efficient means of burning wood for heat and cooking. Most sites will have unlimited amounts of fuel, and wood stoves light quickly and burn for hours without refilling. Stack a pile of wood by the tent door and one restocking will often last the night.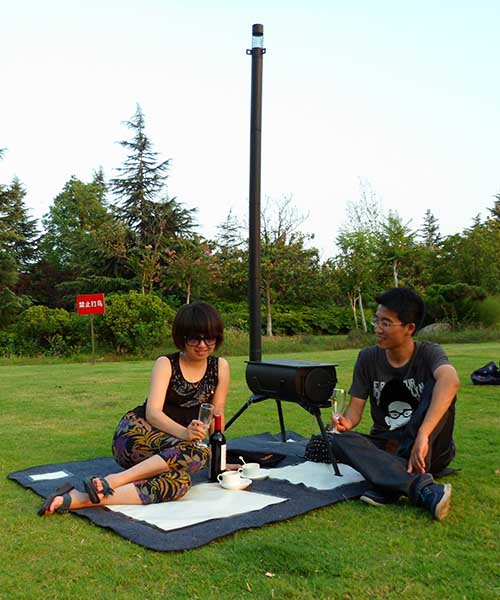 FC-5-1 is a very clever portable wood camping stove with an almost infinite number of uses in hunting and outdoor activities. The camping wood stove comes along with handle straps and shoulder straps complete with 2.4m flue and spark trap stored directly inside the stove .
The installation of the wood camping stove is made on just a minute, fold out the legs and pick out smoke pipes and reassemble any number needed and its it's ready. The very well thought-out design, together with generous interior dimensions make it an efficient source of heat for many different needs / uses.
Perfect for mounting in hunting hut , perched in hunting towers, heat source in tipitents , tents, camping , to take with on the fishing trip by snowmobile , assembly in break huts, fast heat source in emergency situations, in house by prolonged power outages.
Lower smoke pipe is equipped with adjustable pull throttle . The appliance has a removable hotplate . Right side of the wood camping stove is equipped with holders for poker. The West side has a folding carrying handle which makes it easy to carry the stove. Drawn adjusted both through the construction of the door and the chimney damper. The solution with only three legs make the stove stands steady on uneven surfaces outdoors.
Consistently high quality in both design and construction, while the weight is low.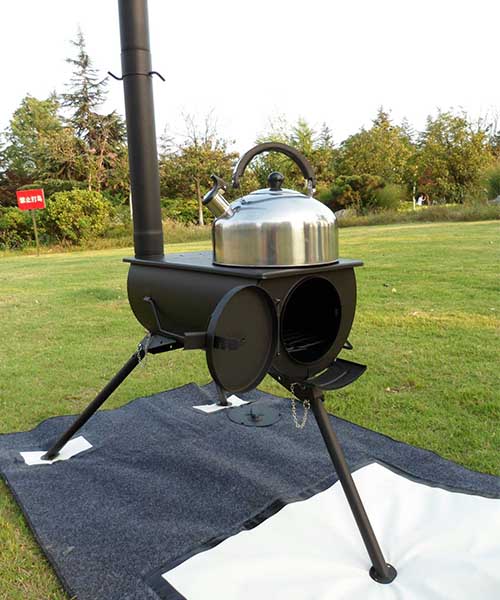 Weight: about 10kg complete .
Height: 450mm
Width : 250mm
Width: 192mm
Size of door: 155mm
Diameter flue pipe : 60mm
Hob height above ground: 510mm
Number of chimneys : 5p + 1 spark trap with side mounts, a total of about 2.4m
Spark / Glow protection under the door : Yes , removable .
Material: steel , powder coated .
Accessories: Stove carry bag,Heating fireproof mat,Stainless steel water boiler tank, Silicone flashing kit, Tipi kit, Gloves.
Please feel free to give your inquiry in the form below.
We will reply you in 24 hours.